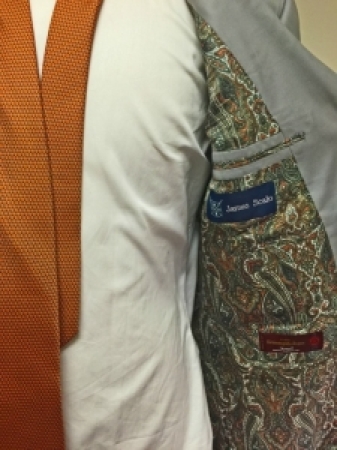 In recent years, smart-casual dress appears to have reigned supreme in most work environments; however, there's no denying that a classic suit will make an impression in more than just the boardroom. 
According to a recent poll
, 65% of men surveyed were more likely to respect a colleague in a suit.
Though the virtues of owning, and wearing, at least one handcrafted bespoke suit are numerous, one factor seems to deter more than its fair share of gentlemen looking to make a statement with their dress - the price tag.
Suits are not cheap. Making a purchase of this magnitude remains an investment for many – and, given this mindset, many men new to purchasing bespoke clothing wonder what type of 'return on their investment' they can expect.
Traditional Suit Retailers
For the uninitiated, a suit may appear to be just that - a suit. While it's possible to find promotions offering a new wardrobe at an unbelieveable price, all that glitters is not gold. With many manufactured suits, the tailoring charges necessary to remove the box-like shape of an off-the-rack suit quickly reduces the appeal of the initial offer. Pair that with the thin fabric used to craft these garments, and many of those in search of a suit may begin questioning the durability of their potential purchase.
Though the offerings at many department stores certainly appear to have the lacking durability, these pieces often come attached to a more substantial price tag.  One Samuel Baron client, Scott Rogerson, recounts his experiences by saying, "When asking about the reason for the price jump, I was often greeted with, 'Well, that is . It is an investment'. I bristled."
Looking for an alternative
Caught between a rock and a hard place, many young professionals find themselves trying to choose the lesser of the two evils. Choosing the option that seems the least impactful, (on the wallet, anyway), these young men find themselves draping on mounds of ill-fitting fabric - creating a silhouette more reminiscent of a rectangle than a human being.
Left with the daunting challenge of accurately representing his professional-self and new company, Rogerson says, "I did know that a better option must exist, but also knew that I needed to find something classic that would engender a positive impression and minimize dollars per use (my metric for evaluating just about every non-food purchase I make)."
Finding The Solution
Scott continues, "I remember Amy, founder of Samuel Baron Clothiers, holding an event at Carnegie Mellon University's Tepper School the same spring I was trying to find my next suit. I will be the first to admit that I was prepared to be laughed out of the room when indicating my need to spend under $1,000 – but the response was quite the opposite."
At Samuel Baron Clothiers, custom truly means custom, with options ranging from choice of fabric, to thread color, to lapel shape - the options are limitless. With custom shirts and ties available in the finest fabrics from Scabal, Zegna and Loro Piana, each customer can maximize the value gained from each piece.
Scott concludes, "After buying my first suit over 3 years ago, it still looks new, which prompted me to buy another suit a few months ago.
Every time I put on my suit, shirt, and tie from Samuel Baron Clothiers, I feel great. It is reminiscent to when you sit in someone's luxury car for the first time and realize that there truly is a difference beyond the brand name. Fortunately, with Samuel Baron Clothiers, you are getting the quality and luxury of a Jaguar at the price of a Ford."
Samuel Baron Clothiers creates custom canvassed suits, sports jackets, tuxedos and beautifully made shirts from the finest fabrics available at an unprecedented value and quality. Click here to learn more.