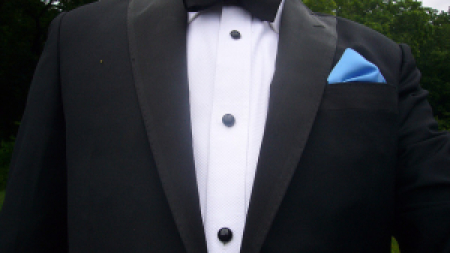 (Image courtesy of Kent Wang)
How often does a man have the opportunity to wear a tuxedo? From weddings to black tie evenings,
a custom tuxedo
can travel expertly between occasions for a number of years. For this reason, purchasing a tuxedo is a lasting investment - and not one that should be made lightly.
Inherently extravagant, your formal wear should always border on the traditional. Though there are a few stylistic choices available to the wearer, most, if not all, tuxedos adhere to the same rigid design formula. There are options to give your tuxedo a unique look, however, tuxedos are most widely known and recognized for their aura of understand elegance.  Follow the simple guide below to create the perfect ensemble for your black tie evening.
Bow Ties Are A Must

For a custom suit, or even a bespoke suit jacket, a simple tie is the perfect accessory to add a pop of color or visual depth to your look. However, for a truly formal look, the ensemble must be completed with a bowtie. Just because your neckwear choices are limited to black bowties, does not mean all options have been taken away. There are plenty of neckwear styles to complete your formalwear; learn more about them by reading
our recent blog post.
Don't Forget The Satin Lining

One of the major differences between a tuxedo and an everyday suit is the presence of satin lining on the garment. Typically seen on the lapel, lining the breast pocket and running down the side of the trouser leg, this adornment is most often recognized as the differentiating factor between a suit and a tuxedo.  
Where To Wear Your Tux
By now it's pretty clear that your custom tuxedo is meant to be reserved for special occasions. However, what if you find yourself impatient to don your new tux?
GQ magazine suggests
creating your own formal event with tux-owning friends, or even with a significant lady in your life. After all, any occasion can be a special occasion with the proper planning!
The key to looking your best at even the most formal of events is to stick to a clean garment with understated details. Make an appointment with the master clothiers at Samuel Baron Clothiers for more information on designing a timeless and comfortable look for your next black tie event.