While ignorance might be bliss, here at Samuel Baron Clothiers we think knowledge is better. This is the third in a series of articles created to help you understand buying custom. Here we explain #SuitingBasics and everything you didn't know you needed to know about lapels.
When adding a new suit to your wardrobe, foremost among your considerations is often its cut, color and the material it's made from. While these variables are important, have you ever considered the nuances of the lapel? The lapel is the folded flap of cloth on a jacket. Typically, it's formed by folding over the front edges of a jacket and sewing it to the collar.
A lapel is vitally important to the shape of a blazer and how it sits on you. There are three distinct types of lapels: notched, peak and shawl. Here we will help you navigate within these three styles. Shawl we get started?
Notched Lapel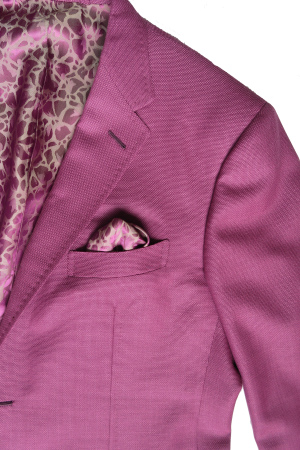 This is the most common style of lapel, with the "notch" being the opening where the bottom of the collar meets the top of the lapel. The notch can vary greatly, with different lapel widths, size of the notch and even the angle of the notch. It tends to be between seventy-five and ninety degrees and can point up or down. A notched lapel could also be referred to as a "notch" lapel.
It's difficult to get the notched lapel wrong, because it can work for everyone. However, the width of the notched lapel should complement the body of the wearer. A slim notch looks great on someone who is tall and slender, while a large notch would suit someone with a larger frame.
If you're only going to own one suit, choose one with a notched lapel. It's timeless and versatile and can be worn for everything from weddings to job interviews to dinner dates. It's often found on single-breasted suit jackets, blazers and sports coats. It's regularly seen on men who prefer a classic, simple and timeless look. This is the chosen style of bankers, lawyers and other conservative industries.
Peak Lapel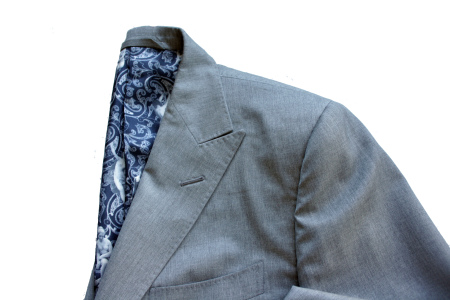 The peak lapel can be traced all the way back to the sixteenth century, as historians believe they came about out of necessity to keep cool by folding back the outermost part of a coat. It's named because of the pointed cut, and can also be referred to as a "pointed" lapel. It juts up and outwards towards your shoulder. The peak lapel is well suited for double-breasted blazers, as it gives the impression of broader shoulders. They're also associated with morning coats and tailcoats, as it's more formal in nature. It can create a slimming effect, so larger gentlemen may want to consider a peak lapel.
If you're looking to break out of your comfort zone, one may also opt for a semi-peak lapel. It's unusual, playful and perfect for those that are confident, but not over the top.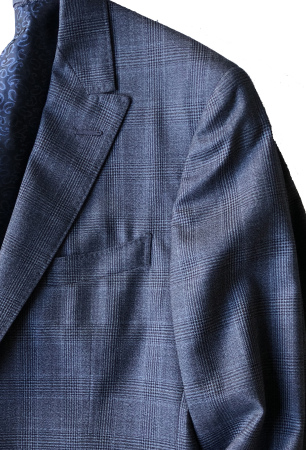 If you're a man that likes to stand out, this is the lapel for you. It's perfect for weddings, formal dinners, black tie events or simply when you're looking to turn some heads. This style is great for anyone in a creative field, or someone who asserts dominance in the workplace.
Shawl Lapel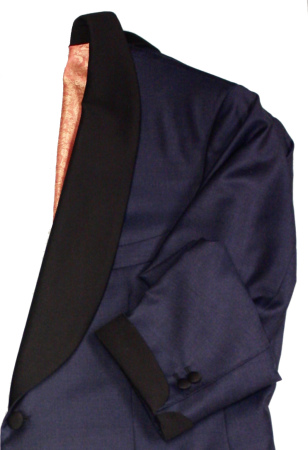 The shawl lapel is the most formal of all lapels, as it's mostly seen on tuxedos and smoking jackets. The collar is a continuous curve with no notch or peak. It's a strip of fabric running from lapel to collar to lapel, only tapering off when it hits the button closure. The shawl lapel is often made of a contrasting material, such as satin or grosgrain, and is almost always reserved for evening wear.
The shawl lapel looks beautiful on almost everyone. However, if you have a rounded face the collar may be too similar to your own shape. This was the lapel of choice for gentlemen's clubs, where the smoking jacket was the required uniform. It's worn at black tie events, red carpet galas and weddings and isn't considered appropriate on a business suit.
---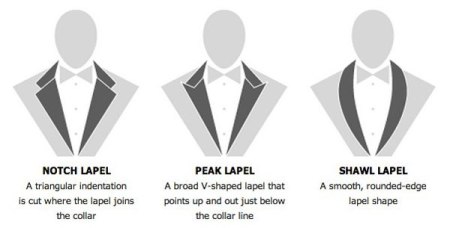 We hope we peaked your interest! These three lapel styles are ingrained in the very fabric of menswear, with each bringing its own unique personality and characteristics to any modern gentleman's collection. We encourage our clients to experiment and find what works best for their wardrobe and body type. Here at Samuel Baron Clothiers, we try to stay a notch above the competition by offering all three lapel styles.
To create your custom suit and pick out your own lapel, make an appointment at Samuel Baron Clothiers by calling (412)-441-1144.