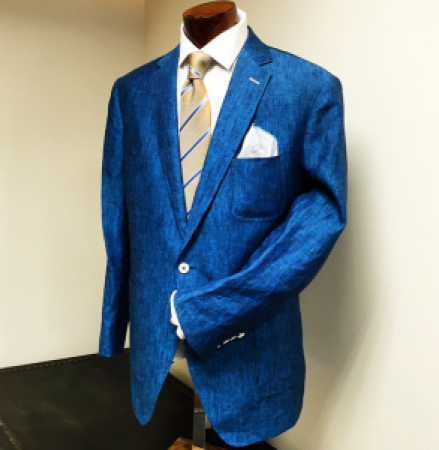 With the hot summer months approaching, it's common for many men to be tempted to forego their coiffed look in favor of something more casual -- and cool! However, excessive heat and humidity are no excuse for not looking your best. Rather than letting your style suffer in order to contend with the rising temperatures, consider a few of the following options you can make with your bespoke wardrobe to stay comfortable in the Pittsburgh summer.
Materials
As any casual suit connoisseur knows, the materials you choose for your bespoke suit affects the fit, durability and comfort of your wardrobe. In the summer months, fabric choice is more important than ever to maintain a sharp look while staying cool.
Your average wool is not the most breathable fabric, even in lighter weights. To combat this. look for natural fabrics that have open weaves like high twist wools, fresco, linen and cotton. The difference in a suit made of a high twist wool or linen compared to one of worsted wool is remarkable.
Holland & Sherry
,
Zegna
and
Loro Piana
offer versatile fabric choices to get you through the summer months. Contact
Samuel Baron Clothiers
for an opportunity to explore these options for your next custom summer suit.
Colors

The need to choose seasonally appropriate colors extends beyond the need to make sure you adhere to a seasonal summer pallette. It may seem obvious to some, but the colors your choose for your bespoke suit can have a direct effect on your comfort level while you're in the sun. Thought  navy, charcoal gray, and black suits should make up the basis of your boardroom attire, for the summer months try lightening up your look with light gray, blue and khaki to reflect the sunlight, rather than absorb it.

Footwear

Just like winter footwear offers a myriad of options, so does summer bespoke footwear. In order to stay cool, consider investing in a pair of penny loafers to replace your more traditional laceups. Though not quite as formal as a more traditional shoe choice, penny loafers add an air of cool nonchalance to a well put together ensemble. Another option to stay cool is the boat shoe, which is sure to prep up your wardrobe.
Though many gentlemen envision sweating bullets in thick wool when they think of wearing a suit in the summer, that image does not need to be a reality. With a new season comes a new opportunity to experiment with appropriate color palettes, fabric choices and accessories to create a seasonally appropriate look that will keep you comfortable and looking sharp - let Samuel Baron Clothiers help!