As a part of our Fashion As Empowerment project, we had the pleasure of working with John Gurman, an extremely talented designer and visual merchandiser at LOOM Showroom in Pittsburgh's Strip District.
John is a clothing creative in his own right and we were thrilled to have him participate in our campaign that celebrates the diversity of fashion as an art as well as a tool for the free expression of identity. In terms of his fashion choices, John describes his personal style as "Layered, Whiskey-dipped, Traditionally-fresh," in his usual charismatic manner of course.
Learn more about what fashion means to John below, then keep reading to hear about our special collaboration after the initial Samuel Baron Clothiers 'Fashion As Empowerment' photo shoot & interview!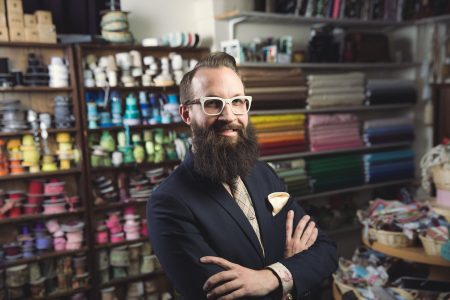 "Fashion is an incredible way to convey a mood without words. And I love that." - John Gurman
How do you use fashion to express yourself?
"If I am at an event and do not feel like starting the party, I will dress more subdued to help weed out the conversations I would rather not have. Let's face it; every comment is not a winner. In instances where I want to feel like the Niagara County Dairy Princess I will dress flashier to meet new people and take chances! Everyone likes a princess."
From where do you draw your fashion inspiration?
"If I said 'everywhere' I would be lying. Working in the Strip District would have me donning my Finest Steelers garb for cocktails and yoga pants for brunch. A SIN!
Some of my favorite inspiration images of menswear would be any vintage airline advertisement. Well fitted suits, hats, luggage and polished shoes?! Sign me up! Personally I enjoy flipping through any current high end womenswear periodical to get a few delicate ideas to throw into the hyper masculine suiting. A vintage hat pin in a lapel? Yes, please! Oh. And Drag Queens."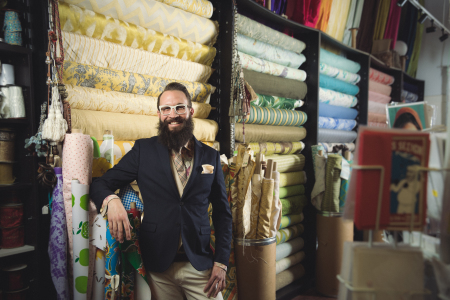 Which outfit from your closet best represents your personality?
"This is going to be a tie.
1.The go to black v-neck sweater, monogrammed (Cuff, watch side) starched white shirt with button down collar, dark jeans and a head turning shoe based on the weather. Perfect for work.
2.Silk lounge pants I designed, an oversized Bob Mackie silk shirt and slippers… NEVER to leave the house except for the occasional Fantasia and wine break on the porch. If it is chilly outside, the Mink is right by the door."
How does your work at Loom influence your style? What kind of inspiration do you find working with textiles all day?
"Working at LOOM influences my style quite a bit! I mean, c'mon, constantly being surrounded by incredible colors, fibers, textures, and pattern is always inspiring. Designing with all of my clients has my mind shifting in all directions on a daily basis. Some days I am creating a serene neutral guest bedroom with rich textures. Other days it is full on pattern problem living rooms loaded with color! Imagine the wardrobe equivalent of these interior spaces… AMAZING!"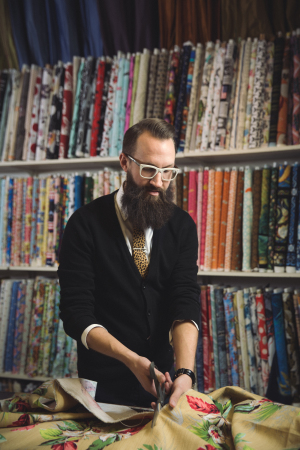 How does your environment dictate your style?
"Dress for the environment you want to be in. If I find myself at an indoor skate park, I will still be wearing clothing suitable for drinks at the William Penn.
We are fortunate to live in a time where dress codes are a little more flexible but I do my best to hold to traditional dress when an event or location merits it. Out of respect! And lets face it, No man EVER looks bad in a well fitted tuxedo."
---
After getting to know John & the ways in which our skill sets align, we decided to embark on a one-of-a-kind collaboration using textiles from LOOM and the sartorial prowess of our Master Clothiers to create two spectacular custom garments.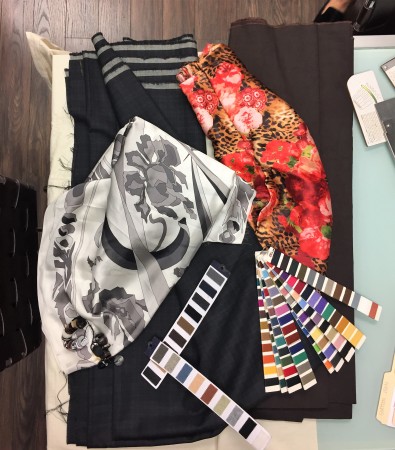 The pieces that made the magic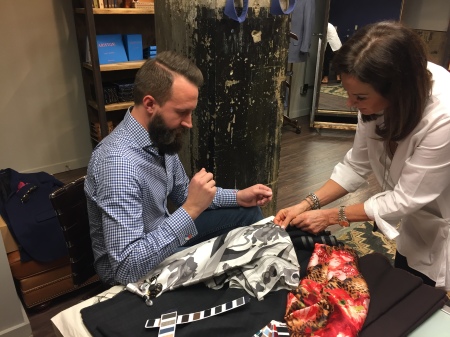 Combining creative forces
The beautiful, finished products of a one-of-a-kind collaboration
Thanks for the spectacular interview & for joining us in this collaborative effort. From one cloth creative to another: you inspire us, John!
Stay tuned next #FashionAsEmpowerment Friday as we introduce you to Samone J. Riddle of Queer PGH.
[Headshots by Gregory Neiser | gregoryneiser.com]