Two words that embody Joe King: Creative spirit. We had the pleasure of working with Joe for our Fashion As Empowerment campaign and it was a true delight. This talented designer & entrepreneur designs his own clothing for various social events across Pittsburgh and beyond where he plays everything from emcee to guest to photo booth engineer. We are humbled to have his creative mind participating in this project and opening himself up to us in terms of how he uses fashion to express his identity.

Below you can hear directly from Joe a little bit about what fashion means to him in his personal life: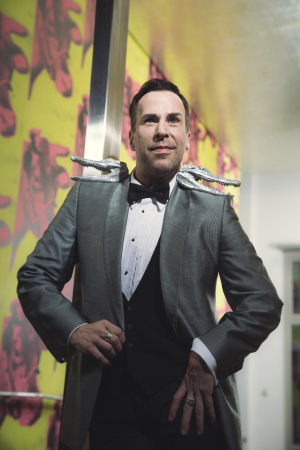 Joe King, a brilliantly creative designer, emcee, and entrepreneur, embraces the variety of fashion.

How do you use fashion to express yourself?

"I use fashion on a daily basis to express my own style, to stand out and to express my individuality. Why should women have all the fun when getting dressed up?
I've always enjoyed the hunt for unique pieces that no one else has; even if I have to create the outfit myself. I love staying up to date on trends happening in other parts of the world and incorporating some of those looks into my own style.
I'm grateful that designers have evolved beyond the stark navy suit and the conformist look that we all grew up watching on TV. Men's fashion itself has evolved with designers experimenting with innovative patterns, tailored cuts, bold colors, and even eye catching lining, buttons and stitching. I think "Casual Friday" as well as more and more people working from home started the trend of a relaxed business look while innovations in fabric and the need for multi functionality clothing have allowed people to think differently beyond the classic suit and tie.
For me, in my job, I wear many different hats, sometimes I'm professional and somewhat conservative, but as an artist, Emcee or event host, I almost always need to dress up, or at least dress with an "edge". When I'm working professionally as a journalist, I often try to mirror the person I'm interviewing, for example: when I interviewed, Project Runway's Tim Gunn or the late Debbie Reynolds, a smart suit was in order, but getting the chance to interview RuPaul, George Takei or Cyndi Lauper, I was much more comfortable wearing bold colors and outrageous patterns. When I host or Emcee events, I tend to gravitate to flashy and over the top."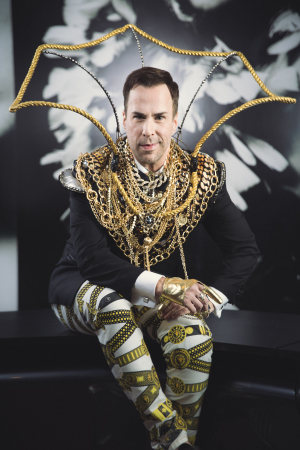 "For me, in my job, I wear many different hats, sometimes I'm professional and somewhat conservative, but as an artist, Emcee or event host, I almost always need to dress up, or at least dress with an edge."
How does Joe King dress on a daily basis?
"Most days- its a pair of faded jeans, a tee shirt and a well worn Nantucket Sweatshirt, while other days a crisp suit paired with a Burberry Tie and a pair of silver sneakers will take me straight from the office to an event or the Theater.
Like everyone, I dress according to my mood, the weather, where I'm going or what type of event I'm attending, however COMFORT is always key. I always try to be mindful of what I'll be doing in my clothes too, sitting at a benefit dinner or client presentation for the entire evening or standing for hours at a charity cocktail party, you've got to be comfortable and confident.
I also try to "over dress" slightly, because its easier to take off a tie or blazer, if the event is more casual than anticipated. You can always dress down a smart look, but its pretty hard to dress up an outfit for the gym."
Three words that describe my personal style:
"My friends would say Flashy, Sparkly, and loud…I say: Bold, Colorful, Creative and Independently Inventive.
My fashion inspiration comes from so many sources I've always loved designers like- Alexander McQueen, Jean-Paul Gaultier, Versace, John Galliano, Tom Ford, Jeremy Scott, James Perse, Ozwald Boateng, Tom Brown, John Varvatos, Calvin Klein, Ralph Lauren, Tommy Hilfiger …just to name a few.
I'm inspired by anyone who pushes the envelope and dares to innovate and stand out. You can pull inspiration from almost anywhere, wether it be an art gallery, a second hand vintage clothing store, while traveling abroad or from the colors in your own back yard. Warhol said "There is beauty everywhere, but not everyone sees it."
I'm also drawn to creative people who use clothing to make a statement like the amazing Iris Apfel, drag sensation Panemonium and the late Leigh Bowery and Liberace."
What outfit from your closet best represents your personality?
"That is tough to choose, but if I had to choose just one, it might be a slick tuxedo that I covered the lapels with iridescent black feathers which came from one of my grandmothers vintage hats. It is definitely a unique piece that no one else has and It has allowed me to re-purpose one of my Grandmothers hats that would normally be collecting dust in a hat box sitting on a shelf somewhere. But, the animal print tuxedo jacket I bought in Italy is the cats meow."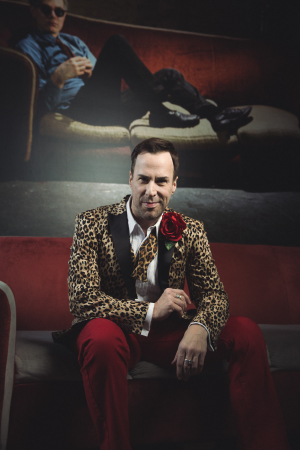 What's the first outfit you've ever designed?

"I don't remember the first outfit that I created or designed, I've been doing this for a long time, thanks to my grandmothers sewing machine, and a supportive family who have always encouraged and fostered creativity and I'm grateful to my friends who are daring enough to wear something I create."
So what's next on the horizon for Joe King?
"Well, I've just launched Pittsburgh's BIGGEST rolling camera- 'Social Light Studio' is a Photo Booth, Social Media Hub & Mobile Studio built inside a redesigned Trillium trailer. I'm also beyond thrilled to be hosting a local event for the JAA in May with Broadway legend Joel Grey."
Thanks for the awesome interview, Joe!
Stay tuned next #FashionAsEmpowerment Friday as we introduce you to the amazing John Gurman of LOOM Showroom!
[All photos by Gregory Neiser | gregoryneiser.com]