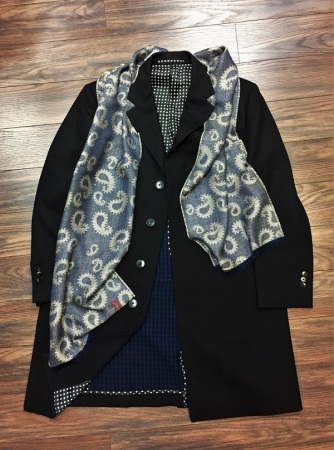 Get your custom jackets & sweaters ready, because colder weather is setting in. Are you prepared for scarves & layers as you kick through the leaves, and eventually, the snow? Our Master Clothiers are excited for the season for more reasons than one, because with a new season comes a new selection of fabrics from the world's very best high-end fabric mills.
From Scabal to Zegna and Loro Piana to Ariston & more, we have everything you could dream of when it comes to suiting up for fall and preparing for winter with the latest perfected fabric styles. See a selection of fabric bunch profiles below along with previews of some of the autumn garments we have been creating in our atelier.
ZEGNA
Zegna is a trusted fabric mill that creates beautiful and timeless fabrics and is a staple to our showroom. Their autumn/winter collections show the beauty and versatility of the mill and features high performance textiles and vibrant colors.
Anteprima Album: This fabric collection is characterized by bright colors & trendy patterns. Crease-resistant, flexible, clean & crisp appearance.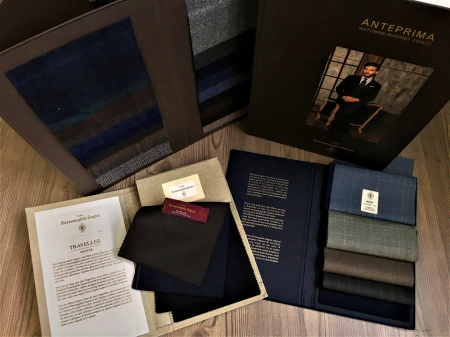 A comfortable and resilient fabric line, Zegna's Traveller is perfect for those who are always on the move.
Trofeo: Superfine wool with an extremely soft & silky, clean & uniform quality. Most suitable for garments made for formal & elegant occasions. Includes Trofeo Cashmere & more.
Electa: Produced by Lanificio Ermenegildo Zegna using superfine Australian wools which are produced & treated with perfected techniques, these precious fabrics are best used in high performance suits & crease-resistant garments as they are extremely long lasting due to the stringent specifications of the selected materials. Includes 14 Milmil 14 , Bunch N.210 Heritage, Bunch N.211 Traveller, Bunch H.212 Huacaya Tweed, & Bunch N.213 Blazers & Trousers.
SCABAL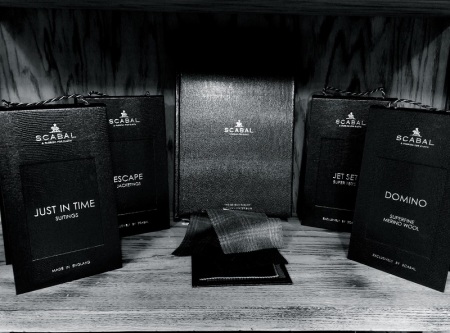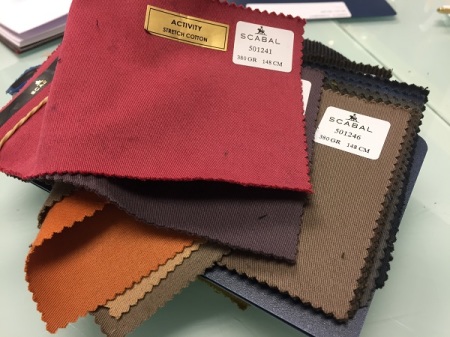 As always, Scabal provides us with classic English Styling straight from the Saville Road mill, and it shows! Their Fall collections show the quality & beauty you would trust from the label. Subtle patterns & grays with deep navy permeate the collection, along with beautiful tweed fabrics and other textures. Each bunch shows the natural beauty of this classic, smart label.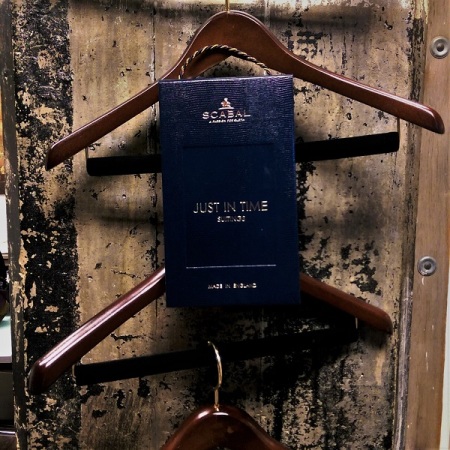 Just In time: Suitings
Updated and newly relaunched, Just in Time features 2ply, pure wool twill at a medium weight of 11 oz. in many different hues of blues and blacks with the addition of some brown and greys. The twist on traditional British tailoring will be perfect for the man who enjoys a polished, sophisticated look.
Classics: Superfine Worsted Suitings
Graphic checks and stripes dominate this fabric style in blue, black, warm browns & contrasted greys. These beautiful textiles are made in Scabal's heritage fabric mill and offer 320g 2-ply twills making up 50 different elegant & versatile looks.
Escape: Jacketings
This beautiful line of fabric makes us want to explore the outdoors in style. Scabal's Escape wool & cashmere jacketing is a vintage-looking collection comprised of fabric in a variety of weights that blends pure wool & cashmere. The first part of the collection of window panes and glenchecks weighs 11 oz., and the second part weighs 12 oz. and tends to be very modern.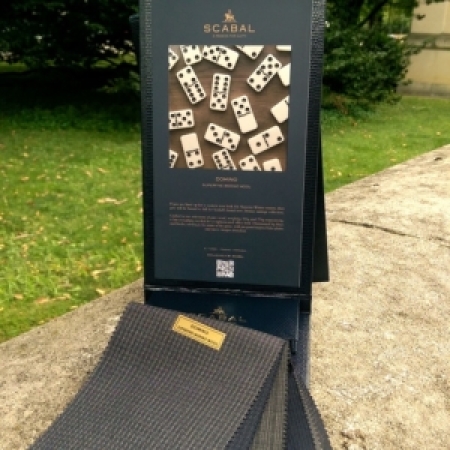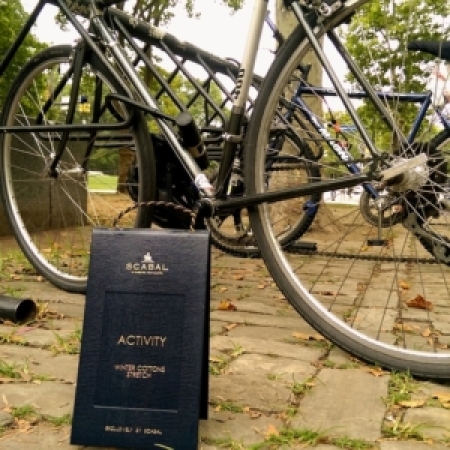 Domino: Superfine Merino Wool
Sophisticated micro patterns in mostly blues and blacks craft up this collection. It is very modern and polished, perfect for the professional business man. The fabrics come in two different weights: 11 oz. and 10 oz. of pure wool to allow for a variety.
Activity: Winter Cottons Stretch
The stretch suitings and trouserings, composed of a 13 oz. cotton twill, come in modern metropolitan shades and are ideal for the modern gentleman's lifestyle.
Jet Set: Super 150's
This lightweight suit is perfect for those who crave the warmth come wintertime. The collection is composed of 45 cloths in many different adventurous designs such as glenchecks, deco-stripes, and herringbones.
Triple A: Super 120's and Cashmere
This eloquent collection of 49 different designs is crafted from an ideal blend of Super 120's wool & cashmere in a 2ply twill. The colors tend to compliment rather than contrast, and the sophisticated stripes, overchecks, and micro designs look dapper on the 11 oz. woven at the mill fabric.
Cortina: Super 120's
An Italian ski-town inspired the name of this collection. It is ideal for the chilly winter months with the Super 120's Pure Wool fabric weighing 10 oz. The bold designs, such as glenchecks, overchecks, and pinheads, are perfect for the man who wants to stand out in the crowd but still keep a clean-cut look. The collection mostly contains browns, greys, and blacks; however, some of the fabrics have subtle peaks of color that really bring out the look.
Casheen: 100% Cashmere Jacketings
This luxurious collection consists of two qualities: the first, a group of 11 oz., is comprised of overchecks and glenchecks in hues of blue, black, and camel. The second contains 5 plains, 11 oz. as well, in a hopsack weave.

Corduroy: Finest Quality
This reliable, classic look is perfect for crisp fall days as well as bitter-cold winter days. Both sets are made up of 13 oz. The first set of the collection is made up of colorful cloths such as salmon, bright blue, and moss, perfect for an active city lifestyle. The second set is composed of pure cotton. It brings out the adventurous side with colors such as rust and purple.

ARISTON
Ariston's new line is rich in color & texture. Expect deep wines & blues with jewel tones like emerald, sapphire, & ruby. Many are heavy fabrics and solids with a heathered quality and speckled texture.
Among our favorite new fabrics by Ariston this season are Super 150s & Super 160s, 4 Stagioni, and Dynamic. The 4 Stagioni bunch is an extremely versatile line of suitings featuring many interesting designs & colors. Ariston's sophisticated Super 150s & Super 160s are your expected luxury suitings, while the Dynamic is a stretchable, breathable fabric.

LORO PIANA
Expect beautiful basics from Loro Piana's autumn/winter selections. They do have your staple patterns, but many adhere to a distinct "bold business" look. Many of these fabrics are sheen + soft, and Loro Piana also provides heavier fabrics that lie well onto the body form. Also among this new line is the 655 Bunch Rain system/Storm System.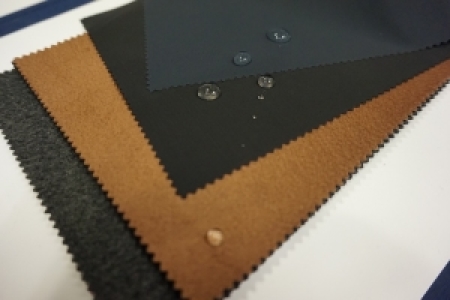 If you're interested in learning much more about Loro Piana's beautiful autumn/winter textiles, visit their website here. Or, if you prefer a more guided, hands-on experience, call us today to schedule a visit to our Shadyside showroom to see these beautiful textiles for yourself.
We're always working hard crafting remarkable menswear garments using the very best fabrics from these Fall/Winter 2016 collections. But as always, nothing can compare to experiencing these fabrics in person, feeling the texture of each thread with your very own hands. In our Shadyside showroom, this is exactly what you can do. Schedule a custom clothing consultation today to be a part of this unparalleled custom clothing process.